Social Media
The impact of social media and other means of sharing has been devastating for the world of the Internet. Now, it has become essential to know how to use it well so as to increase the visibility of the websites and pages creating traffic targeted and relevant to our content. They are fundamental to the Off Page SEO, and as, are becoming crucial for the viral spread of their content.
What is Social Media? 
I Social Media are Web technologies which allow:
a wider catchment area: you can reach a significant number of users
sharing with other people
accessibility of our product: it opens new doors for entry to our product
Timeliness: a post on a social network is almost immediate
To give a better idea we list some examples of Social Media: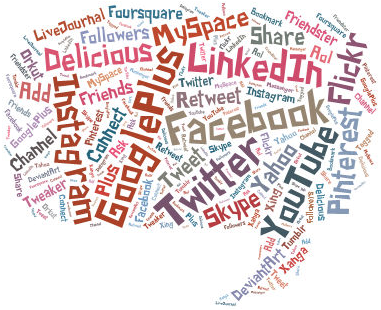 Social Network

Facebook
Twitter
Google Plus
LinkedIn

Sharing Pictures
Sharing Videos
Social Bookmarking
Instant Messagging
SMO Social Media Optimization
SMO (Social Media Optimization) is the branch of Social Media Marketing that deals with the optimization of web pages specifically for sharing with Social Media.
The guidelines for a good post are as follows:
Useful text: every post implies that we want to offer something new and useful to people
Short Text: the text must be very brief, yet concise; the user tends to leave out unnecessary content
Call to Action: The user must capture the user's attention arousing interest by clicking on the link
Multimedia Support: preferably, the post should be accompanied by a very appealing photo or video, so as to give greater weight to the notion Call to Action.
This concerns the shape of a particular post. Now, it would be appropriate to consider whether the people with whom we share our post (friends, followers, circles, etc.) are really interested in the subject we are dealing with. Unfortunately, not everyone will be. To implement a more targeted approach there is the so-called #hashtag.
Hashtag
Hashtags are tags (words with the addition of the hashtag symbol "#" as a prefix) used in different social networks to create labels. They are used in the comments of posts to reach not only friends, but people who follow us etc.., But above all users who are interested in the subject (even people we do not know). In this way, you can have more and more people (friends or not) who see our post, and who, if interested, may share our posts and create a viral communication (viral marketing or viral marketing).
Useful content + Call to Action + #hashtag = Viral Communication
Several websites provide hashtags that are most widely used at this time. It might be a good strategy to reuse these tags in our posts; obviously it must have something to do with our topic, even if only partially.
Gli Hashtag nei Social Networks
Facebook
 Twitter
#seo, differenza tra #seoonpage e #seooffpage http://t.co/vzr1gWtmCc via @SeoWebMaster_CH
— SeoWebMaster (@SeoWebMaster_CH) October 16, 2013
 Google Plus
[easy-share counters=1 counter_pos="inside" native="no" hide_total="yes" fullwidth="yes" fullwidth_fix="100"]
SeoWebMaster and blog
The agency offers a complete service in web area, by updating you also about the most recent technologies through this blog. We provide our experience in each phase of development process in order to reach optimal results in different areas
Request a quote
We offer professional SEO services which will help your website increment the organic search traffic and compete for the 1st page with the most strategic keywords.
[dslc_module_posts_output]a:337:{s:11:"orientation";s:10:"horizontal";s:6:"amount";s:1:"8";s:7:"columns";s:1:"6";s:8:"elements";s:13:"main_heading ";s:13:"post_elements";s:36:"thumbnail title meta excerpt button ";s:20:"css_wrapper_bg_color";s:11:"transparent";s:14:"css_sep_height";s:1:"0";s:18:"css_thumb_bg_color";s:18:"rgb(255, 255, 255)";s:22:"css_thumb_border_color";s:11:"transparent";s:21:"css_thumb_border_trbl";s:0:"";s:12:"thumb_margin";s:1:"0";s:18:"thumb_margin_right";s:1:"0";s:19:"thumb_resize_height";s:3:"290";s:25:"thumb_resize_width_manual";s:3:"300";s:18:"thumb_resize_width";s:3:"384";s:11:"thumb_width";s:2:"46";s:17:"css_main_bg_color";s:18:"rgb(255, 255, 255)";s:21:"css_main_border_color";s:15:"rgb(33, 51, 65)";s:20:"css_main_border_trbl";s:0:"";s:25:"css_main_padding_vertical";s:2:"30";s:27:"css_main_padding_horizontal";s:2:"40";s:19:"css_main_min_height";s:3:"260";s:13:"main_position";s:10:"bottomleft";s:11:"title_color";s:12:"rgb(0, 0, 0)";s:15:"title_font_size";s:2:"20";s:17:"title_line_height";s:2:"30";s:12:"title_margin";s:2:"15";s:21:"css_meta_border_width";s:1:"1";s:20:"css_meta_border_trbl";s:11:"top bottom ";s:20:"css_meta_font_family";s:17:"Libre Baskerville";s:19:"css_meta_link_color";s:7:"#5890e5";s:25:"css_meta_link_color_hover";s:7:"#5890e5";s:17:"css_excerpt_color";s:17:"rgb(97, 103, 108)";s:21:"css_excerpt_font_size";s:2:"15";s:23:"css_excerpt_font_family";s:6:"Roboto";s:14:"excerpt_margin";s:2:"20";s:14:"excerpt_length";s:2:"12";s:11:"button_text";s:8:"Continua";s:19:"css_button_bg_color";s:16:"rgba(0, 0, 0, 0)";s:23:"css_button_border_color";s:24:"rgba(42, 160, 239, 0.28)";s:29:"css_button_border_color_hover";s:7:"inherit";s:16:"css_button_color";s:17:"rgb(42, 160, 239)";s:22:"css_button_color_hover";s:7:"#ffffff";s:20:"css_button_font_size";s:2:"13";s:22:"css_button_font_weight";s:3:"400";s:22:"css_button_font_family";s:6:"Roboto";s:25:"css_res_t_title_font_size";s:2:"17";s:27:"css_res_t_title_line_height";s:2:"29";s:27:"css_res_t_excerpt_font_size";s:2:"13";s:26:"css_res_t_button_font_size";s:2:"11";s:33:"css_res_t_button_padding_vertical";s:2:"12";s:35:"css_res_t_button_padding_horizontal";s:2:"12";s:28:"css_res_t_button_icon_margin";s:1:"5";s:22:"css_res_p_thumb_margin";s:1:"0";s:31:"css_res_p_main_padding_vertical";s:2:"25";s:33:"css_res_p_main_padding_horizontal";s:2:"25";s:25:"css_res_p_title_font_size";s:2:"17";s:27:"css_res_p_title_line_height";s:2:"29";s:27:"css_res_p_excerpt_font_size";s:2:"13";s:18:"main_heading_title";s:12:"Recent posts";s:23:"main_heading_link_title";s:13:"See all posts";s:22:"css_main_heading_color";s:18:"rgb(115, 126, 137)";s:28:"css_main_heading_font_family";s:6:"Roboto";s:28:"css_main_heading_line_height";s:2:"21";s:27:"css_main_heading_link_color";s:11:"transparent";s:33:"css_main_heading_link_color_hover";s:17:"rgb(93, 144, 226)";s:31:"css_main_heading_link_font_size";s:1:"0";s:33:"css_main_heading_link_font_weight";s:3:"100";s:33:"css_main_heading_link_font_family";s:6:"Roboto";s:33:"css_main_heading_link_padding_ver";s:1:"9";s:13:"view_all_link";s:1:"#";s:26:"css_main_heading_sep_color";s:25:"rgba(124, 124, 124, 0.21)";s:32:"css_res_t_main_heading_font_size";s:2:"17";s:34:"css_res_t_main_heading_line_height";s:2:"37";s:37:"css_res_t_main_heading_link_font_size";s:2:"11";s:31:"css_res_t_heading_margin_bottom";s:2:"20";s:32:"css_res_p_main_heading_font_size";s:2:"17";s:34:"css_res_p_main_heading_line_height";s:2:"37";s:37:"css_res_p_main_heading_link_font_size";s:2:"11";s:31:"css_res_p_heading_margin_bottom";s:2:"20";s:23:"css_filter_border_color";s:7:"#e8e8e8";s:20:"css_filter_font_size";s:2:"11";s:22:"css_filter_font_weight";s:3:"700";s:22:"css_filter_font_family";s:9:"Open Sans";s:29:"css_filter_padding_horizontal";s:2:"12";s:19:"css_filter_position";s:4:"left";s:24:"css_filter_margin_bottom";s:2:"20";s:26:"css_res_t_filter_font_size";s:2:"11";s:26:"css_res_p_filter_font_size";s:2:"11";s:23:"css_arrows_border_color";s:25:"rgba(130, 129, 129, 0.11)";s:16:"css_arrows_color";s:25:"rgba(141, 141, 141, 0.45)";s:21:"css_arrows_margin_top";s:1:"3";s:15:"css_arrows_size";s:2:"43";s:24:"css_circles_color_active";s:7:"#5890e5";s:22:"css_circles_margin_top";s:2:"10";s:16:"css_circles_size";s:1:"7";s:19:"css_circles_spacing";s:1:"6";s:13:"css_pag_align";s:4:"left";s:20:"css_pag_border_color";s:7:"inherit";s:22:"css_pag_item_font_size";s:2:"11";s:24:"css_pag_item_font_weight";s:3:"700";s:24:"css_pag_item_font_family";s:9:"Open Sans";s:29:"css_pag_item_padding_vertical";s:2:"12";s:31:"css_pag_item_padding_horizontal";s:2:"12";s:20:"css_pag_item_spacing";s:2:"10";s:18:"module_instance_id";s:3:"949";s:7:"post_id";s:4:"1379";s:9:"module_id";s:10:"DSLC_Posts";s:11:"dslc_m_size";s:2:"12";s:11:"css_show_on";s:20:"desktop tablet phone";s:10:"css_custom";s:7:"enabled";s:9:"post_type";s:4:"post";s:4:"type";s:8:"carousel";s:15:"pagination_type";s:8:"disabled";s:7:"orderby";s:4:"date";s:5:"order";s:4:"DESC";s:6:"offset";s:1:"0";s:12:"sticky_posts";s:7:"enabled";s:13:"query_post_in";s:0:"";s:17:"query_post_not_in";s:0:"";s:11:"query_alter";s:7:"enabled";s:17:"carousel_elements";s:15:"arrows circles ";s:24:"css_wrapper_border_color";s:0:"";s:24:"css_wrapper_border_width";s:1:"0";s:23:"css_wrapper_border_trbl";s:21:"top right bottom left";s:29:"css_wrapper_border_radius_top";s:1:"0";s:32:"css_wrapper_border_radius_bottom";s:1:"0";s:17:"css_margin_bottom";s:1:"0";s:14:"css_min_height";s:1:"0";s:28:"css_wrapper_padding_vertical";s:1:"0";s:30:"css_wrapper_padding_horizontal";s:1:"0";s:17:"separator_enabled";s:7:"enabled";s:20:"css_sep_border_color";s:7:"#ededed";s:17:"css_sep_thickness";s:1:"1";s:13:"css_sep_style";s:6:"dashed";s:9:"link_type";s:8:"url_same";s:15:"css_thumb_align";s:4:"left";s:22:"css_thumb_border_width";s:1:"0";s:27:"css_thumb_border_radius_top";s:1:"0";s:30:"css_thumb_border_radius_bottom";s:1:"0";s:26:"css_thumb_padding_vertical";s:1:"0";s:28:"css_thumb_padding_horizontal";s:1:"0";s:13:"main_location";s:6:"bellow";s:21:"css_main_border_width";s:1:"0";s:26:"css_main_border_radius_top";s:1:"0";s:29:"css_main_border_radius_bottom";s:1:"0";s:19:"css_main_text_align";s:4:"left";s:19:"css_main_box_shadow";s:0:"";s:21:"css_main_inner_margin";s:1:"0";s:20:"css_main_inner_width";s:3:"100";s:22:"css_title_button_align";s:7:"inherit";s:17:"title_color_hover";s:0:"";s:21:"css_title_font_weight";s:3:"300";s:21:"css_title_font_family";s:0:"";s:24:"css_title_text_transform";s:4:"none";s:13:"meta_elements";s:11:"author date";s:21:"css_meta_border_color";s:7:"#e5e5e5";s:14:"css_meta_color";s:7:"#a8a8a8";s:18:"css_meta_font_size";s:2:"11";s:20:"css_meta_font_weight";s:3:"400";s:22:"css_meta_margin_bottom";s:2:"16";s:25:"css_meta_padding_vertical";s:2:"16";s:27:"css_meta_padding_horizontal";s:1:"0";s:18:"excerpt_or_content";s:7:"excerpt";s:24:"css_excerpt_button_align";s:7:"inherit";s:23:"css_excerpt_font_weight";s:3:"300";s:23:"css_excerpt_line_height";s:2:"23";s:25:"css_button_bg_color_hover";s:7:"#4b7bc2";s:23:"css_button_border_width";s:1:"1";s:22:"css_button_border_trbl";s:21:"top right bottom left";s:24:"css_button_border_radius";s:1:"3";s:27:"css_button_padding_vertical";s:2:"12";s:29:"css_button_padding_horizontal";s:2:"12";s:21:"css_button_margin_top";s:1:"0";s:24:"css_button_margin_bottom";s:1:"0";s:9:"show_icon";s:4:"font";s:17:"button_inline_svg";s:0:"";s:24:"css_button_icon_size_svg";s:2:"11";s:21:"css_button_icon_color";s:0:"";s:27:"css_button_icon_color_hover";s:0:"";s:22:"css_button_icon_margin";s:1:"5";s:9:"css_res_t";s:8:"disabled";s:23:"css_res_t_margin_bottom";s:1:"0";s:34:"css_res_t_wrapper_padding_vertical";s:1:"0";s:36:"css_res_t_wrapper_padding_horizontal";s:1:"0";s:20:"css_res_t_sep_height";s:2:"32";s:23:"css_res_t_sep_thickness";s:1:"1";s:22:"css_res_t_thumb_margin";s:1:"0";s:28:"css_res_t_thumb_margin_right";s:2:"20";s:32:"css_res_t_thumb_padding_vertical";s:1:"0";s:34:"css_res_t_thumb_padding_horizontal";s:1:"0";s:31:"css_res_t_main_padding_vertical";s:2:"25";s:33:"css_res_t_main_padding_horizontal";s:2:"25";s:22:"css_res_t_title_margin";s:2:"16";s:24:"css_res_t_meta_font_size";s:2:"11";s:28:"css_res_t_meta_margin_bottom";s:2:"16";s:31:"css_res_t_meta_padding_vertical";s:2:"16";s:33:"css_res_t_meta_padding_horizontal";s:1:"0";s:29:"css_res_t_excerpt_line_height";s:2:"23";s:24:"css_res_t_excerpt_margin";s:2:"22";s:27:"css_res_t_button_margin_top";s:1:"0";s:30:"css_res_t_button_margin_bottom";s:1:"0";s:30:"css_res_t_button_icon_size_svg";s:2:"11";s:9:"css_res_p";s:8:"disabled";s:23:"css_res_p_margin_bottom";s:1:"0";s:34:"css_res_p_wrapper_padding_vertical";s:1:"0";s:36:"css_res_p_wrapper_padding_horizontal";s:1:"0";s:20:"css_res_p_sep_height";s:2:"32";s:23:"css_res_p_sep_thickness";s:1:"1";s:28:"css_res_p_thumb_margin_right";s:2:"20";s:32:"css_res_p_thumb_padding_vertical";s:1:"0";s:34:"css_res_p_thumb_padding_horizontal";s:1:"0";s:22:"css_res_p_title_margin";s:2:"16";s:24:"css_res_p_meta_font_size";s:2:"11";s:28:"css_res_p_meta_margin_bottom";s:2:"16";s:31:"css_res_p_meta_padding_vertical";s:2:"16";s:33:"css_res_p_meta_padding_horizontal";s:1:"0";s:29:"css_res_p_excerpt_line_height";s:2:"23";s:24:"css_res_p_excerpt_margin";s:2:"22";s:26:"css_res_p_button_font_size";s:2:"11";s:33:"css_res_p_button_padding_vertical";s:2:"12";s:35:"css_res_p_button_padding_horizontal";s:2:"12";s:27:"css_res_p_button_margin_top";s:1:"0";s:30:"css_res_p_button_margin_bottom";s:1:"0";s:30:"css_res_p_button_icon_size_svg";s:2:"11";s:28:"css_res_p_button_icon_margin";s:1:"5";s:17:"carousel_autoplay";s:1:"0";s:23:"carousel_autoplay_hover";s:5:"false";s:21:"main_filter_title_all";s:3:"All";s:26:"css_main_heading_font_size";s:2:"27";s:28:"css_main_heading_font_weight";s:3:"300";s:31:"css_main_heading_letter_spacing";s:1:"0";s:36:"css_main_heading_link_letter_spacing";s:1:"0";s:26:"css_main_heading_sep_style";s:6:"dotted";s:25:"css_heading_margin_bottom";s:2:"50";s:39:"css_res_t_main_heading_link_padding_ver";s:2:"10";s:39:"css_res_p_main_heading_link_padding_ver";s:2:"10";s:19:"css_filter_bg_color";s:7:"#ffffff";s:26:"css_filter_bg_color_active";s:7:"#5890e5";s:30:"css_filter_border_color_active";s:7:"#5890e5";s:23:"css_filter_border_width";s:1:"1";s:22:"css_filter_border_trbl";s:21:"top right bottom left";s:24:"css_filter_border_radius";s:1:"3";s:16:"css_filter_color";s:7:"#979797";s:23:"css_filter_color_active";s:7:"#ffffff";s:27:"css_filter_padding_vertical";s:2:"12";s:18:"css_filter_spacing";s:2:"10";s:25:"css_res_t_filter_position";s:4:"left";s:33:"css_res_t_filter_padding_vertical";s:2:"12";s:35:"css_res_t_filter_padding_horizontal";s:2:"12";s:24:"css_res_t_filter_spacing";s:2:"10";s:35:"css_res_t_filter_item_margin_bottom";s:1:"0";s:30:"css_res_t_filter_margin_bottom";s:2:"20";s:25:"css_res_p_filter_position";s:4:"left";s:33:"css_res_p_filter_padding_vertical";s:2:"12";s:35:"css_res_p_filter_padding_horizontal";s:2:"12";s:24:"css_res_p_filter_spacing";s:2:"10";s:35:"css_res_p_filter_item_margin_bottom";s:1:"0";s:30:"css_res_p_filter_margin_bottom";s:2:"20";s:18:"arrows_slide_speed";s:3:"200";s:15:"arrows_position";s:5:"above";s:19:"css_arrows_bg_color";s:11:"transparent";s:25:"css_arrows_bg_color_hover";s:7:"#5890e5";s:29:"css_arrows_border_color_hover";s:17:"rgb(88, 144, 229)";s:23:"css_arrows_border_width";s:1:"1";s:24:"css_arrows_border_radius";s:1:"3";s:22:"css_arrows_color_hover";s:7:"#ffffff";s:21:"css_arrows_arrow_size";s:2:"11";s:23:"css_arrows_margin_right";s:1:"0";s:24:"css_arrows_margin_bottom";s:2:"20";s:23:"css_arrows_margint_left";s:1:"0";s:27:"css_arrows_aside_margin_top";s:3:"-30";s:33:"css_res_t_arrows_aside_margin_top";s:3:"-20";s:33:"css_res_p_arrows_aside_margin_top";s:3:"-20";s:19:"circles_slide_speed";s:3:"800";s:17:"css_circles_color";s:25:"rgba(185, 185, 185, 0.17)";s:28:"css_res_t_circles_margin_top";s:2:"20";s:22:"css_res_t_circles_size";s:1:"7";s:25:"css_res_t_circles_spacing";s:1:"3";s:28:"css_res_p_circles_margin_top";s:2:"20";s:22:"css_res_p_circles_size";s:1:"7";s:25:"css_res_p_circles_spacing";s:1:"3";s:15:"pagination_text";s:15:"Load More Items";s:16:"css_pag_bg_color";s:0:"";s:20:"css_pag_border_width";s:1:"0";s:19:"css_pag_border_trbl";s:21:"top right bottom left";s:21:"css_pag_border_radius";s:1:"0";s:24:"css_pag_padding_vertical";s:1:"0";s:26:"css_pag_padding_horizontal";s:1:"0";s:28:"css_pag_item_bg_color_active";s:7:"#5890e5";s:34:"css_pag_item_bg_color_active_hover";s:7:"#ffffff";s:21:"css_pag_item_bg_color";s:7:"#ffffff";s:36:"css_pag_item_bg_color_inactive_hover";s:7:"#ffffff";s:25:"css_pag_item_border_color";s:7:"#e8e8e8";s:31:"css_pag_item_border_color_hover";s:7:"#e8e8e8";s:32:"css_pag_item_border_color_active";s:7:"#5890e5";s:25:"css_pag_item_border_width";s:1:"1";s:32:"css_pag_item_border_width_active";s:1:"1";s:24:"css_pag_item_border_trbl";s:21:"top right bottom left";s:26:"css_pag_item_border_radius";s:1:"3";s:25:"css_pag_item_color_active";s:7:"#ffffff";s:24:"css_pag_item_color_hover";s:7:"#979797";s:18:"css_pag_item_color";s:7:"#979797";s:33:"css_pag_item_color_inactive_hover";s:7:"#979797";s:27:"css_pag_item_letter_spacing";s:1:"0";s:20:"css_pag_button_width";s:12:"inline-block";s:18:"css_pag_margin_top";s:2:"30";s:20:"css_pag_margin_right";s:1:"0";s:21:"css_pag_margin_bottom";s:1:"0";s:19:"css_pag_margin_left";s:1:"0";s:24:"css_res_t_pag_margin_top";s:2:"30";s:26:"css_res_t_pag_margin_right";s:1:"0";s:27:"css_res_t_pag_margin_bottom";s:1:"0";s:25:"css_res_t_pag_margin_left";s:1:"0";s:24:"css_res_p_pag_margin_top";s:2:"30";s:26:"css_res_p_pag_margin_right";s:1:"0";s:27:"css_res_p_pag_margin_bottom";s:1:"0";s:25:"css_res_p_pag_margin_left";s:1:"0";s:8:"css_anim";s:4:"none";s:14:"css_anim_delay";s:1:"0";s:17:"css_anim_duration";s:3:"650";s:15:"css_anim_easing";s:4:"ease";s:14:"css_anim_hover";s:4:"none";s:14:"css_anim_speed";s:3:"650";s:15:"css_load_preset";s:4:"none";s:15:"css_save_preset";s:0:"";s:12:"custom_class";s:0:"";s:16:"dslc_m_size_last";s:2:"no";s:21:"module_render_nonajax";b:1;s:25:"css_wrapper_padding_group";b:0;s:14:"button_icon_id";b:0;s:31:"css_res_t_wrapper_padding_group";b:0;s:31:"css_res_p_wrapper_padding_group";b:0;s:23:"css_arrows_margin_group";b:0;s:20:"css_pag_margin_group";b:0;s:26:"css_res_t_pag_margin_group";b:0;s:26:"css_res_p_pag_margin_group";b:0;}[/dslc_module_posts_output]