E-commerce Ticino – Online shop
Introduction to online shops
Definition: an E-commerce or an online shop is trading in product or services on Internet. Many companies have as primary or secundary sales channel.
Nowadays, internet is dominating the market. Basically, everything that could be done only physically previously, is now feasible online. Indeed, the virtual world can significantly shorten the time, always be available to customers, anywhere in the world and has significantly lower costs.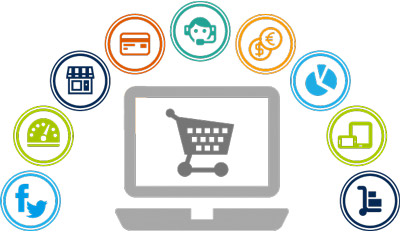 Among our services, SeoWebMaster include online shop development, management and optimization.
Online shop vs offline shop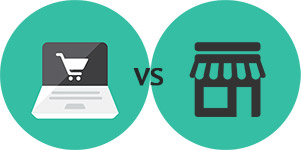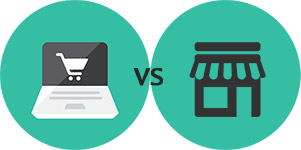 Now, we compare the two sales channels (Web and traditional) to better observe the advantages and disadvantages of one over the other.
Online vs offline shop

| Description | Online Shop | Traditional Shop |
| --- | --- | --- |
| Reachability | Immediate | Difficult (often impossible) |
| Schedules | Open 24/24 – 365/365 | Business Days |
| Availability | Very Important | Crucial |
| Retailer costs | Lower | Higher |
| Shop presentazione | Content fundamental | Human touch |
| Order speed | Very high | Slower |
| Delivery | Often slow | Immediate |
| Advertising | Social Media / Internet Marketing / SEO | Tradition Marketing |
As the table shows, an online shop is easy to reach, even if it or the client is on the other side of the world with different time zones; an online store can be accessed anytime, anywhere. Obviously, the potential of a physical store, for obvious reasons, is more reduced from this point of view.
Another important advantage of a company that owns an E-commerce is that it does not have the same costs that can have a company that offers its products and services in a traditional store: the store itself involves significant implementation costs, it needs sellers available throughout the course of working hours, showcases and products to keep up-to-date, maintenance of everything etc..
For online shop it is very important offering content of various types in order to provide a detailed description of the products and services offered because it is the only way to replace the human touch in physical stores. Only an optimal presentation may allow the seller to respond to all the needs of the user.
An order of an online shop is almost immediate, but the shipping is much slower; the opposite happens in a normal shop.
The significant presence (therefore a good pages ranking) in search engine optimization (SEO) is a surplus value of every online shop in terms of online visibility. To achieve this, we need expertise and time. In short term, there are several Internet Marketing (payed) that allow you to anticipate the SEO optimization and / or cover its shortcomings. Beside, it is becoming increasingly important the world of Social Media.
Evolution of Online Market in Switzerland
As shown by the chart above, the evolution of the online market in Switzerland is growing continuously. In 2013, it is recorded a 9.7% increase (550 million Swiss francs), thus reaching a total volume of 6.25 billion CHF.
Given the linear growth in recent years, it is clear that this sales channel will become increasingly relevant and, now more than ever, it is essential to work in this direction.
Online Shop Ticino by SeoWebMaster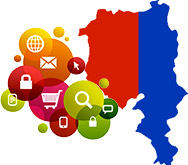 SeoWebMaster develops E-commerce for Canton Ticino and the rest of Switzerland. Ticino has ample room for growth; this makes it even more interesting because the competition is still containable.
Online presence: trend or necessity?
The volume growth of the online market shown by the graph is evident. The sales channel on the Internet is used more and more. Therefore, the web presence becomes increasingly necessary to take advantage of this great potential of the virtual world. On the other hand, however, many medium or large companies implement the online shop for being present because the E-commerce is trendy. Certainly, there are economic reasons behind this business choice, but not the major ones; nowadays, selling online has become a must-have in order  to respond or outperform the competition and for being able to say "hey, we are there!".
Management Systems E-commerce
SeoWebMaster allows the use of the most advanced and updated Management Systems. Here are some important points:
Different CMS used
Layout customization, adaptation to the business sector
Website and content optimization with major search engines
Often, we find a bit 'of concern in some of our customers, especially on maintenance and management of an online store. This fear vanishes after a brief training on the management of the back office since it is user-friendly and intuitive software. They are easily manageable by anyone without the need for special skills or techniques.

As well as user-friendly, the CMS allows full management of the store in all its facets. Now, we focus on some highlights.
Clients/Users
All personal information are shown in the back office to which our CMS ensure maximum confidentiality and privacy. It is possible to allow orders to unregistered users.
E-commmerce orders
Orders have statuses (e.g. "Ordered", "Payment successful", "Sent", "Delivered", "Returned" and so on.) that permits you to monitor the whole process from purchase order to its delivery.
Online shop products
Products can be described in the minutest detail. With descriptions, images, product combinations, features, categorization, assignments to manufacturers and suppliers, specifics about shipping it is possible to provide an excellent presentation of our products.
Finance e statistics
CMSs allow you to easily keep the accounting of the virtual store. In addition, there are all kinds of statistics to better understand the flow of our users, thereby allowing us to improve the way we present ourselves, adapting the content to the user requirements.
Localization and inventory
In terms of localization different factors are manageable: languages, currencies, taxes, nations, translations etc. This allows the sale also from foreign countries who speak other languages (already in Switzerland Multilingual factor is crucial) and using other currencies. In addition, you can enable automatic inventory management.
Template and modules
The CMS allows the use of templates to change radically and always online shop layout. In addition, to further extend the CMS functionalities, there are various modules (free and paid) in order to reach a maximum level of customization.
Conclusion
The massive use of technological devices by young people (not only!), as well as the proven volume growth of the online market in Switzerland (and in other parts of the world) are self-explaning facts: E-commerce is the future.
For any need and / or request, please contact us. We will be happy to answer your questions about online shop.
Contact us